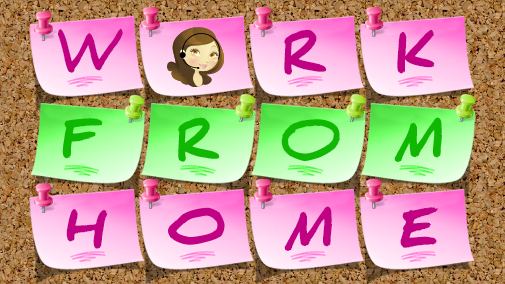 Girlicity Virtual Solutions – Work at home in your PJ's!
Have you been looking for a legit work from home job and can't seem to find anything? Look no further! You have found it!
You can work at home taking customer service calls for fortune 500 companies in your PJ's! These companies are outsourcing their call volume through Arise Virtual Solutions. Arise then outsources to companies like myself (Girlicity) to find and manage the people that are working from home. You certify for the company you choose to work for and start taking calls from your home. It is all virtual so you basically log into your computer for work and the calls come directly into your phone line! You answer the phone as if you are in a call center! It's a pretty cool concept. The jobs are kept in the US. Customers are happier because they can speak to someone that they can understand and it gives people that can't work outside the home or need flexibility an opportunity to work and make a living! For me, I chose to do it to help with bills and to be able to spend more time with my family. My husband is happy, my son is happy and I am super happy! No office drama, no daily commute, spending less money on gas and after school care. It all adds up. I don't have to spend extra on work clothes or put makeup on to go to work. It truly is an amazing opportunity. You have to be self disciplined and motivated to make it work and you also have to have some working knowledge of computers and technology (to a degree).
It is the same as a call center job, except you are on your computer at home. Some of the companies that outsource through us are FORTUNE 500 companies! You choose who you work for and the pay rate is based on the client you choose. Most have a base rate of $8-$12 hr with incentives that can make you more. Incentives are usually based on your average call handle time or based off customer surveys.
The most asked question I get is "Does it cost me anything"? The answer is yes. You are your own boss running your own business out of your home. There are some training expenses like the CSP101 which costs anywhere between $5 and $99 depending on the sales that are running. There is also the cost of the client certification course which range from $29 to $179. You have to look at the certification like a college course. If you wanted to become a hairdresser you have to go to cosmetology school and when you graduate you are able to run your own business. This concept is very similar. You certify (Graduate) after your course and now have all the knowledge needed to service this client as per their requirements. You are able to choose your own hours and work from your own home office and in essence be your own boss!  You certify, you work from home and you get paid!
Everyone is hesitant, and I don't blame you because I was! I watched my friend work from home with this company for 5 years before I decided to give it a try! I am so glad that I did. It is a leap of faith but guess what? There are 150+ people that are a part of my team working from home!
Imagine being able to work around school schedules, after school activities, children's sports activities, vacations, family emergencies and so many other things and not have a boss breathing down your neck about time missed! And you are providing for your family! No extra daycare or after school care costs! No extra gas money and commute time! You get to be there for your family and be the MOM (or DAD) you have always wanted to be!
Want to know more? Contact me at keri@girlicity.com or take a moment to check out my website at www.girlicity.com and read through the testimonials, FAQ's and Support Page then fill out the Contact Us form to receive information on how to get started.
Work from home, work in your PJ's,
Keri Catoe
CEO Girlicity