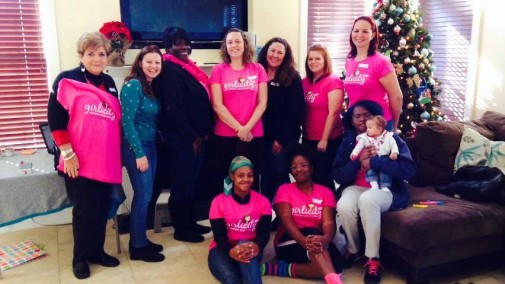 Thank You for being a part of our Girlicity Team in 2014!
We had a great turnout at our 2014 Christmas lunch! Great food, great giveaways and great company! I am so proud to have such an amazing team all over the US! I wish we could have gotten all 270 of our team members together. In 2015 we have an awesome "Girlicity at Sea" conference planned on Carnival Cruise!
As we close out 2014, I wanted to take a moment and thank Katrina, our Executive Assistant and Recruiter, for being an integral part of our growth and our success! Katrina has become the "go-to" person when getting started with Girlicity. Her dedication to our team is appreciated and I look forward to what 2015 has in store for Katrina!
I also wanted to thank my business partner and husband, Jonathan Catoe, for designing an amazing website and logo and continuing to help keep our website in order! Jonathan is not only our web designer/programmer but is also our Marketing Director and has done an amazing job designing signage, business cards and more!
I also want to thank each and every one of our team members for being so helpful to each other. Our team would not function without all of your help. When someone joins the team, it is such a relief for them to know that others are there to share their experiences and help them along the way. Our Facebook group has grown and someone almost always answers questions before me, which I appreciate more than you know! Thank you!!!
Last, but not least, I wanted to thank all of the executives and employees at Arise Virtual Solutions for their encouragement and support as we build our team and grow our business. We would not be able to offer work at home opportunities to so many people without Arise!
We have grown significantly over the past 12 months and look forward to growing even more in 2015! We have so much in the works and can't wait to share them with everyone on our team!
Want to be a part of our amazing team? Contact Us and let us tell you why our team is the BEST! 🙂