Girlicity's Referral Program Incentive Promotion!
For every person that refers a new team member to Girlicity that enrolls, certifies with a client and services an Arise client for 30 days, you will receive up to a $50 referral incentive! In order to qualify your referral must also put in the Girlicity Agent ID of 936240 OR your Agent ID (make sure to give this to them!) as the "Who referred you" part of the Arise application.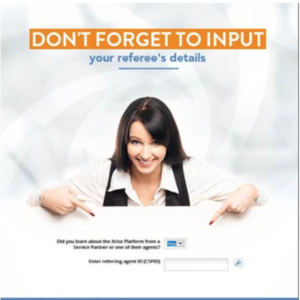 You also MUST fill out the referral form to qualify and it must be filled our PRIOR to them joining Girlicity.
Get out there and spread the word! Get names and email addresses and watch your check grow!
*if you are not servicing a client and refer a new Agent, your referral will be paid after you have serviced an Arise production SOW contract for at least 30 days.
Tell Everyone You Know about the Arise Platform Give them your Agent ID and EARN UP TO $50 for every qualified registrant that signs up! So many ways to earn!
ELIGIBILITY REQUIREMENTS
In order for you to be eligible for the Referral Program, the new registrant MUST DO the following:
Agent

that you refer must enter the User ID/CSPID for you when asked "Did you learn about the Arise Platform from a call center or one of their agents?" during the profile creation process at partnersetup.arise.com
Agent must service for at least 30 days.
* If the 

Agent

drops, fails, or is cancelled (voluntarily or involuntarily) from the first course selected, they will not have met the eligibility requirements
If the registrant meets the requirements listed above, you will receive $50.
*The agent must continue to meet Arise and client metrics set forth in the applicable SOW during the 30-day time.
*Payments will be made once Arise has processed and verified all of the data for the referral.
Help your friend, then help yourself to a fifty bucks! It's our way of saying a big thank you for being a big help.