What is ACD?
We are virtual customer service representatives who take inbound donation calls for popular nonprofit organizations. Some of the clients that you will be taking calls for will be PBS (Public Broadcasting Station), ASPCA, Wounded Warrior Project, St. Jude, Disabled American Veterans, etc.
These clients are 24/7 and this position is an independent contracting position. You will be expected to be a self-starter, motivated and must be able to follow directions. The position is mostly seasonal to start with but can lead to a more year-round opportunity if you do well. US only. Not available to residents in California, Delaware, Massachusetts, Louisiana, West Virginia, Wyoming, Vermont, Washington and South Dakota.
You will need a webcam just for the registration portion. Can you get an inexpensive one from Walmart that is USB connected? Then you could even return it since you won't need it anymore. Or borrow one from a friend or family member.
Intermediate to advanced PC proficiency and troubleshooting experience
You must have at least 6 months of call center experience. You should not even apply if you don't as ACD Direct will deny you and you will not get refunded the $50 fee. *Arise covers that so if you are in Arise you just need to put Arise Virtual Solutions, Miramar, FLorida. Virtual Customer Service Agent and then the dates you have been registered in Arise EXAMPLE:  June 2007- Present. and any other relevant call center experience no matter how long ago it was.
Pay is $0.20 per minute talk time and up to $0.34 per min based on job score.
Must be available to work nights and weekends. The clients needs are going to be biggest during those times.
Minimum expectations are 20 hours scheduled per month
Cost is $50 which includes your self paced certification class, background check, Vocal Demo and On-Boarding. No other certification or application fee's are paid to Arise, Girlicity or ACD.
Windows Based PC with Anti-Malware Security Software. – Mac/Apple systems are not compatible with ACD Direct platforms and programs.
Chromebooks do not provide full functionality necessary to run our programs and platforms
Minimum 4 GB RAM with Intel or AMD CPU 2GHz processor (or equivalent)
Google Chrome browser preferred.
Internet Requirements: Minimum bandwidth requirements are 3Mpbs Upload, 10Mbps Download.
Note: Satellite, Dial Up, Wi-Fi and wireless connections are not accepted
High-speed access point with one of the following: a) Cable b) DSL c) FiOS
Your internet connection must be private (no public networks) and password protected. ACD Direct may conduct a system scan to ensure compliance and data security.
Virtual Private Networks (VPNs) are NOT permitted when using ACDD Systems
No phone line required.
USB Headset for class and Servicing required
Invoice periods are the 1st through the 15th and the 16th through the end of the month. Pay dates are the 1st and the 15th following the invoice period unless the pay date falls on a weekend or holiday then it will be paid the first business day prior.
FEE FOR SERVICE: Our partner, KahlCenter, will withhold $25 per invoice period.
FEE FOR SERVICE: Girlicity fee is a flat rate of $25 per invoice period.
Review from one of our current agents: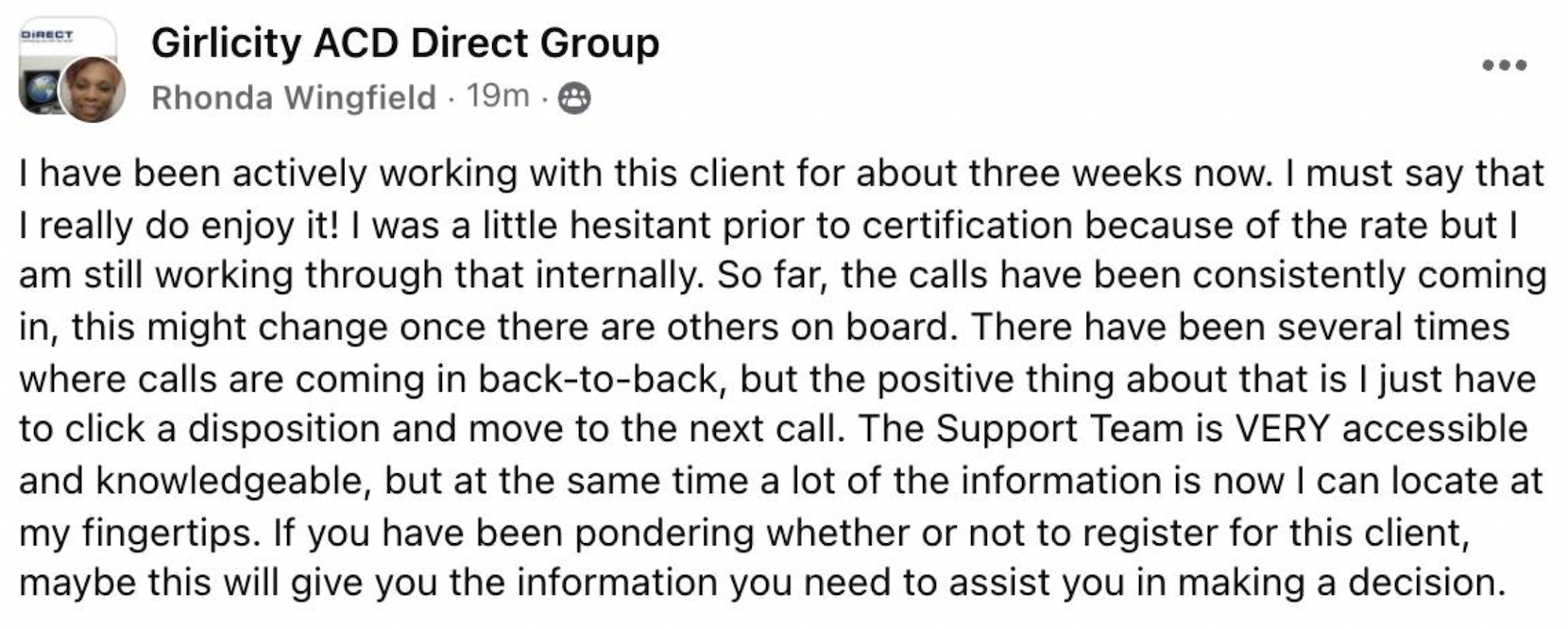 If you would like to register, fill out this form:
Find More Articles by KB Tags